Commander John Walker (US Navy – Retired)
Senior Naval Science Instructor (SNSI)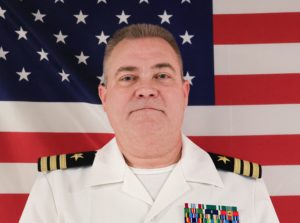 Commander John Bruce Walker was born in Columbus, Georgia in 1966. In December 1988, he was commissioned an Ensign in the United States Navy through the Navy Reserve Officer Training Corps program at Auburn University. After commissioning, he served aboard USS Barbey (FF 1088) as the Electronic Warfare Officer and Gunnery Officer. In 1991, he transferred to the Polaris Missile Facility (POMFLANT) in Charleston, SC, where he served as a Nuclear Weapons Courier Officer with the Arduous Sea Contingent and then serving as the Physical Security Officer for POMFLANT. He resigned from the Navy in September 1993.
Returning to naval service with the reserve component in 2001, LT Walker was mobilized to Navy Mobilization Processing Site (NMPS) Gulfport, MS in February 2003 as the Operations Officer, the Assistant Officer-In-Charge (AOIC) and eventually the Officer-In-Charge (OIC) April 2005 to August 2007. Lieutenant Commander Walker was mobilized in March 2009 for Navy Law and Order Detachment Golf, serving as the Executive Officer of the Directorate of Emergency Services for Area Support Group, Kuwait until March 2010. In December 2010, Commander Walker reported to Navy Recruiting Command until accepting a temporary assignment as the Action Officer for Navy Region Midwest for the commemoration of the Celebration of the Bicentennial of the War of 1812 (COMWAR1812). Upon completion of that assignment, he became the Liaison Officer for the College of Operational and Strategic Leadership at the Naval War College. In his final tour, he was mobilized in 2014 to Washington, DC as a Deputy Department Head until 2018. His personal decorations include: Defense Meritorious Service Medal, Navy Commendation Medal (2nd Award), Army Commendation Medal and Armed Forces Reserve Medal with "M' device and bronze hourglass.
​
He joined Lassiter as an instructor on the 1st of July 2022, after having served for over three years as the Senior Naval Science Instructor at Laurens District 55 High school in South Carolina.